Gantry Loader GL-200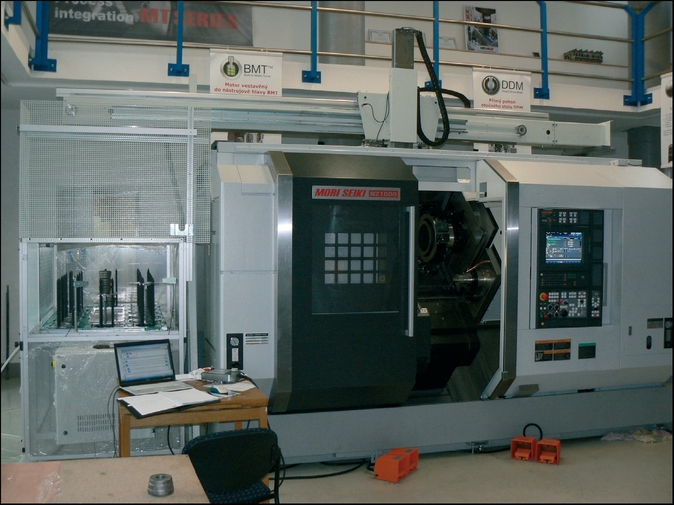 Gantry Loader GL-200 is used for automatic loading of flange type parts in working space of CNC lathes and machine tools through opened entry door or an opening in it.
It consists of two basic units – the loader and the magazine.
The Loader
The loader is used for transport of parts between the magazine and CNC lathe. The loader consists of the following main parts:
Gantry
Carriage
Head
Gantry Cover
Yaskawa MP3300 Control
Power Unit
The Magazine
The magazine is used for storage of parts (blanks and workpieces). It is fastened to the main stanchion of the loader. It consists of the following main parts:
Magazine base
Side covers
Front door
Rear door
Upper cover
Cover coupling
Standard loader GL 200 is mainly intended for flanged blanks, which can safely be stacked. It can however be applied on almost any product. Our sales and development team will prepare an optimal "turnkey" offer for your application to maximally improve your manufacturing process.
The loader attendance and programming is very simple. Preferred method of programming is manual run to required positions and their subsequent saving in the memory. Thanks to it you will never need a specially trained programmer. After a short training, performed by our technicians within putting the loader into operation, your operators will be fully able to operate and program the loader.
The loader is connected to a machine or manufacturing line through free M-code or Robot interface.
Machine/manufacturing line – loader interface is included in the loader supply.
Standard products are manually inserted in the pallet magazine, in the pin guide of the pallet, and the pin dimensions are adjusted depending on the product diameter. Standard magazine can hold up to 13 pallets. On the basis of your specification we can equip the loader with other method of workpiece loading and unloading.
Pallets are exchanged (moved) in the magazine automatically. After unloading, the empty pallet is moved away and replaced by the full one.
Operation characteristic
| | |
| --- | --- |
| Maximum workpiece weight | 5 kg |
| Maximum workpiece diameter | 200 mm |
| Maximum workpiece length | 100 mm |
| Maximum workpiece stack height | 300 mm |
| Maximum workpiece stack weight | 25 kg |
| Time of part reload from the position before the entry into the working space* | 12 s |
| Min. recommended cycle time of the operated CNC lathe | 40 s |
| * without chuck opening and closing time |   |
Galerie